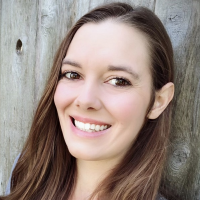 Heather Carson
Science Fiction, Teen & Young Adult
Want to know a secret? Heather Carson hates talking about herself. She'd much rather be writing poetry or dreaming up enchanted (sometimes not so enchanted) worlds and spelling stories out into beautiful books. She loves indie publishing because she gets to craft a story from a simple idea into a completed novel she can hold in her hand. She also loves reading, cooking, baking, and most Pinterest type stuff- but not in the cliche way, in the hold my beer and watch what I can do way. Nature recharges her and she would spend all her time outdoors if it wasn't so darn cold during the winter.

This is all contingent on whatever free time that she gets though. Heather is the mother of two feral and rambunctious boys aged 4 and 9 months. They aren't as crazy as all that, however, they do say please sometimes. She is also the wife of a US Navy IDC and currently resides in Southern Maryland thanks to the military's choice of orders. Heather is originally from the eastern Sierra Nevada mountain range of California and Nevada. She has a chocolate lab who is the best dog in the whole world and a calico cat who is kind of a brat but she loves her anyway. Her favorite food is tacos and sneaking s'mores late at night when her children are asleep.

Someday she might make enough money from writing to hire someone else to write a more professional bio ...
You will never know what you are capable of until you take that first step and go for it.